2022 Sailing - Greek Island
There is, without doubt, a magical quality to this incredible striking Santorini Coast-line. Many of those that have sailed the glistening Aegean seas & drifted between the cliff-flanked bays, find they go home feeling a little more in love with this stunning part of the world. Explore the astounding natural beauty of the Island, awash with its blue-domed churches and whitewashed villages perched high above shimmering sea & experience the jaw-dropping sunsets that simply take your breath away
Paradise is not so far away, snorkelling in the crystal waters of the Aegean or lazing on the decks, whilst looking out its beaches of black, pink and grey volcanic sand. Just Imagine ...
Contact us for more details. We're ready to help you discover the hidden gems of Santorini Island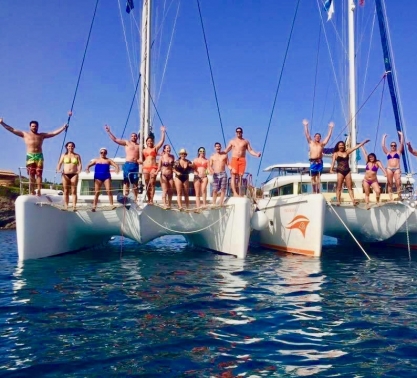 Step aboard & be dazzled by our relaxing Luxury catamaran Cruises & take the chance to explore the blue side of the city. Swimming, snorkeling, sailing and of course gastronomy is part of the most unbelievable experience you are likely to have in our half or full day cruise. Live the dream and take a sail around the Saronic Gulf where idyllic coastline & ancient treasures make for the memories of a lifetime. Sip a cocktail in a harbour-side taverna, or swim in waters so clear you'll see tiny fish nipping between your feet.
Contact us for more details. We're ready to help you discover the hidden gems of The the Greek Islands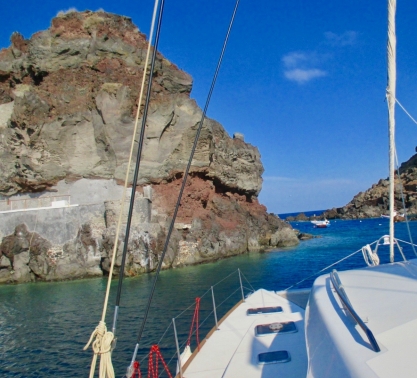 Think spectacular bays, hidden coves and crystal waters ... A week on a tailor-made Catamaran cruise around the Greek Islands is sure to make you fall in love with this stunning part of the world.
Picture perfect coves and delicious food all add to a magical sailing experience
What could be more relaxing than sailing along this peaceful coastline and stopping off each day at yet another wonderful destination, perhaps with an extra bathe stop along the way.
If you are travelling in a large group or you simply wish to have a Catamaran to yourself (apart from the crew of course) then this can be arranged. Perhaps you want to celebrate a special occasion in a more intimate way or maybe you would like to enjoy a family reunion on-board – there are many reasons why guests choose to hire our and crew for their sole use.
The advantage of chartering your own Catamaran means that there is potentially a little more flexibility in the itinerary – whether it's a longer stay at a certain destination or take a few bathing stops. Where possible, such requests will be considered by the crew.
Contact us now. for more details, we're ready to help you plan your Tailor-made Sail